Heya guys,
I've decided to start a small series on my blog called "My Top 5..". In this I'll be detailing my top 5 different beauty bits. I decided to start this with a beauty essential. Concealers. So let's jump right into it whoooooppp.
5. Catrice Camouflage Cream.
Where to  start. When I was suffering with cystic acne (something I've touched on in another blog post) this was an absolute god send. It is so pigmented and creamy and hides dark scarring, discolouration and acne. This is a very thick, creamy heavy duty product that does require quite a bit of blending. I would not  use this under my eyes or as a brightening concealer. This is purely a cover up concealer. I use the shade 010 Ivory and I will have to admit the shade isn't fantastic but I managed to work with it. It's very long lasting and isn't patchy at all. For 3.50 this an excellent value product. Ir comes in a small plastic pot with a screw top lid. It can be applied with a concealer brush but personally I find this product works better when warmed up so I use my fingers and melt it into my skin. It's a throw in your bag easy to use product.
4. Rimmel Match Perfection Concealer. 
This is a great concealer. It's really brightening and hydrating on the skin. The coverage is alright. Not the worst but not the best. It will cover your dark under eye circles but not your dark spots or acne scars or acne.Unless this is set with powder I do find it  becomes a small bit patchy but nothing a brush of powder can't fix. This has nice pigmentation but again the shade range isn't fantastic but still manageable. This comes in a squeezey tube with a small bristled brush applicator at the end. This may not be ideal  for those suffering with acne as the brush may hold bacteria but otherwise it's fine. For 7.99 it is priceyish and that's why I put it at number 4 and not higher. Still it's a good product worth purchasing.
3. Maybelline Instant Age Rewind Eraser Dark Circles Concealer.
This is honestly fantastic at getting rid of your under eye circles and brightening your face but not at concealing acne or dark scars. It is so creamy and hydrating and pigmented, it's a dream to blend. This comes with a little spongey top, again not ideal for acne sufferers. There's a little dial at the bottom you twist to pump product up to the sponge but be careful how many times you twist the dial as you don't want too much product in the sponge. at 11.99 it is noticeably more expensive than my other budget concealers but it really is such an excellent product!
2. Collection Lasting Perfection Concealer .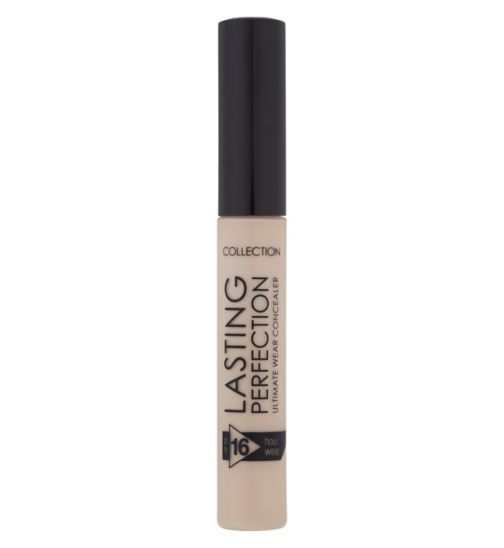 Raved about again and again and for good reason. This product is unbelievable. It's so creamy and pigmented and perfect. It can brighten and conceal. Perfect under eye and on acne and acne scarring. It has a shade range that suits the palest of people, myself included. It is on the thicker side but you can sheer it out using a damp beauty blender. It's fabulous and only 5.79.
Catrice Liquid Camouflage Concealer.
 DADADADADADADAAAAAAAA the love of my life. This is an unbelievable product. It can highlight, brighten and conceal. It is incredibly pigmented and liquidy, it's not thick at all, it blends like a dream.  It is the very same as the Urban Decay Naked Skin concealer. It is perfection in a little bottle. I could literally cry I love it so much. And even if I did, it wouldn't be a problem as it's water proof. It's simply fabulous. AND IT'S 3.80. It is the cheapest concealer here but the best. Omg I just adore it. #bae